​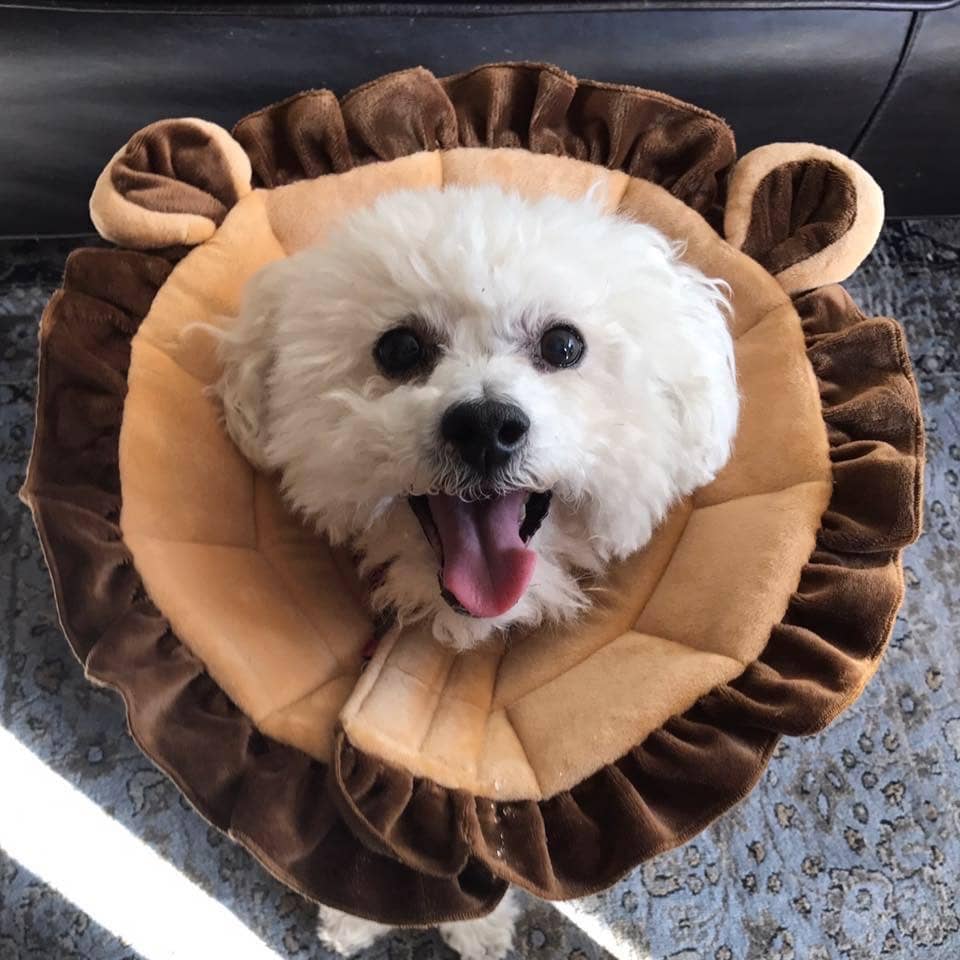 Many of us have suffered through a tough week. And though we may not be directly connected to the events of Uvalde, Texas, as humans, it's nearly impossible to remain unaffected by something as wantonly tragic as the needless death of so many little ones. If you're in the United States, you may also be grappling with understandable rage and despair, as mass shootings--including school shootings--occur on a daily basis.
I debated whether I should write about the state of gun laws in the United States; but, the truth is, all the things I could say have already been said. Many times over. Accordingly, instead of discussing this subject any further, I will defer to two things here: (a) this short video I did on the state of 2nd Amendment law, and (b) t​his excellent newsletter by David Epstein on how to talk about gun control.
---
This week, I've decided to use this space in your inbox to bring you some "feel good" stories, starting with one of my own, followed by those of many others. And is there anything more "feel good" than a "good boi"? (And for those of you who are not hip to TikTok lingo, "boi" is how the kids now refer to "good boy" or "good dog.") So, this is the story of Rudy Lee, aka "Roodles," the rescued bichon-poodle I adopted in 2013.
I Chose to Adopt, Not Shop.
I adopted Rudy shortly after I separated from my ex-husband. I left Wheeling, Illinois with all my books, a piano, and, most importantly, my best friend Daisy. I've written a lot about my Daisy, who passed away in July 2017 from heart failure. Daisy had lived her whole life with at least one other dog, and when I moved into my small condo in the city, I grew worried that she would get lonely at home while I worked long hours at the office (I was on the cusp of making partner, so, yes, extremely long hours). Daisy was, herself, a bichon-poodle, and the poodle in her made her a bit of a snob. While she wasn't aggressive with other dogs, she wasn't overly friendly either. I noticed, however, that she showed the most interest in dogs that looked like her. I therefore posted on Facebook, asking if anyone knew of any bichon-poodles up for adoption.
At that time, I wasn't vegan. Like many of you, my love of animals preceded my choice to adopt a plant-based diet. I remember my very first meeting with my financial advisor when I was a first year associate at the law firm. When he asked me what my ultimate goal was in life, I told him I wanted to open a sanctuary for abused animals. In retrospect, it was weird and emotionally uncomfortable harboring such a love of animals together with a love of eating them, but I did what I could in my own small way and part of that meant adopting a dog--not buying one.
I've fallen for "designer puppies" in the past and plunked over nearly a thousand bucks for one (my Billy Boy was a beautiful and rare black "puggle"). And don't get me wrong--a person can love a purchased pet as much as an adopted one. But over 3 million dogs a year enter animal shelters in the United States alone. More than 390,000 of them end up getting euthanized because no one will care for them. In light of these statistics, it seemed obscene that more and more dogs were being bred so that some influencer could complete her outfit with a puppy while out buying her next Chanel bag, only to return the dog when it was no longer socially expedient or "cute." I no longer wanted to incentivize the euthanization of dogs, and therefore, I chose to adopt. Was I a perfect animal lover at the time? No. Am I one today? No. But, we do what we can, until we can do more.
As luck would have it, I received a reply almost instantly to my Facebook post (the magic of social media!) with a link to One Tail at a Time, a rescue organization based in Chicago. OTAT does not have a brick and mortar location; rather, it is a network of foster families who take in rescued dogs from all over the country until they are placed in an appropriate and permanent home. I applied immediately and within days, the rescued bichon-poodle called "Kiwi" by his foster parent, was introduced to my Daisy. Twenty-four hours later, Rudy joined our family on the 22nd floor of The Bernidin.
Rudy, the Street Tough.
Rudy came to me after an unknown amount of time outdoors. He was picked up off the streets of Texas in June 2013. Do you know how hot it gets in Texas in June? The average temperature is 91° F. The first thing I noticed about him was that his skin was almost entirely black. I could hardly see any pink on his small frame. Unlike the thick, wooly coat that Daisy enjoyed, Rudy's fur was sparse and patchy, scraggly around his face, and thinning towards his rear. His ribs were poking out, his teeth were covered in tartar, and the fur around his paws was a burnt orange. Although OTAT estimated him to be around 6 years old, he wasn't neutered. He had a terrible cough that wracked his entire body every few minutes.
The first thing we did was switch out the name "Kiwi" for "Rudy." My brother--who, along with his wife, was living with me at the time--was deathly allergic to kiwis. We figured keeping the name, however convenient, might be a bad omen for the start of our little family. We then took him to the vet and began sorting out his innumerable health problems, followed by a visit to the groomer. He came home looking like a brand new dog, but, we would soon discover that being abandoned and left to fend for oneself on the streets of Texas brings with it a host of other maladies.
We learned within hours that Rudy could not abide being approached from the rear. I have the scars on my hand to prove it. He had to pee on everything--the piano, the fridge, my briefcase, the grocery bags. No amount of crate training and positive reinforcement could rid him of this compulsion. Although he adored Daisy almost instantly (a sentiment which was, sadly, not reciprocated), he seemed to hate every dog he saw when on a leash, which was very stressful, since we lived in a very dog friendly building with only one set of elevators. A woman once threatened to call the police on us when Rudy got aggressive with her standard sized poodle (about 4 times his size) outside our front door.
Rudy, the Minx.
We eventually got a handle on the things we could fix, and taped up those which we couldn't (belly bands FTW!). And despite the bouts of leash rage and hacking coughs, little Rudy's personality bulldozed its way straight into everyone's heart. I call him my "little minx," even though he's the wrong gender (I honestly think the word is slightly sexist...), because of how he literally wheedles his way between your hands so you have no choice but to pet him.
In addition to being hopelessly disobedient (see the video above), Rudy is uproariously funny and charmingly mischievous. And he was always kind and generous with Daisy, who was not as kind and generous with him. He knew how much Daisy meant to me and didn't begrudge her the top spot in my heart. For that, I remain so humbly grateful to my little minx.
Perhaps the most rewarding and somewhat surprising development was how my Rudy took to Anthony, and vice versa. Anthony came on the scene about a year after I adopted Rudy. As you can imagine, I was a little anxious about how Anthony would take to my dogs, particularly the one who enjoyed peeing indiscriminately on briefcases and pianos. My anxiety was exacerbated by the fact that Anthony is just shy of being a germaphobe and didn't really seem to like dogs. He'd never had one before, even as a kid, and I got the distinct "I don't see what all the fuss is about" impression when it came to his view of our four-legged friends. But wouldn't you know it--after a few months, my little minx crept right into Anthony's once paw-free heart and, as he is so good at doing, left a mark.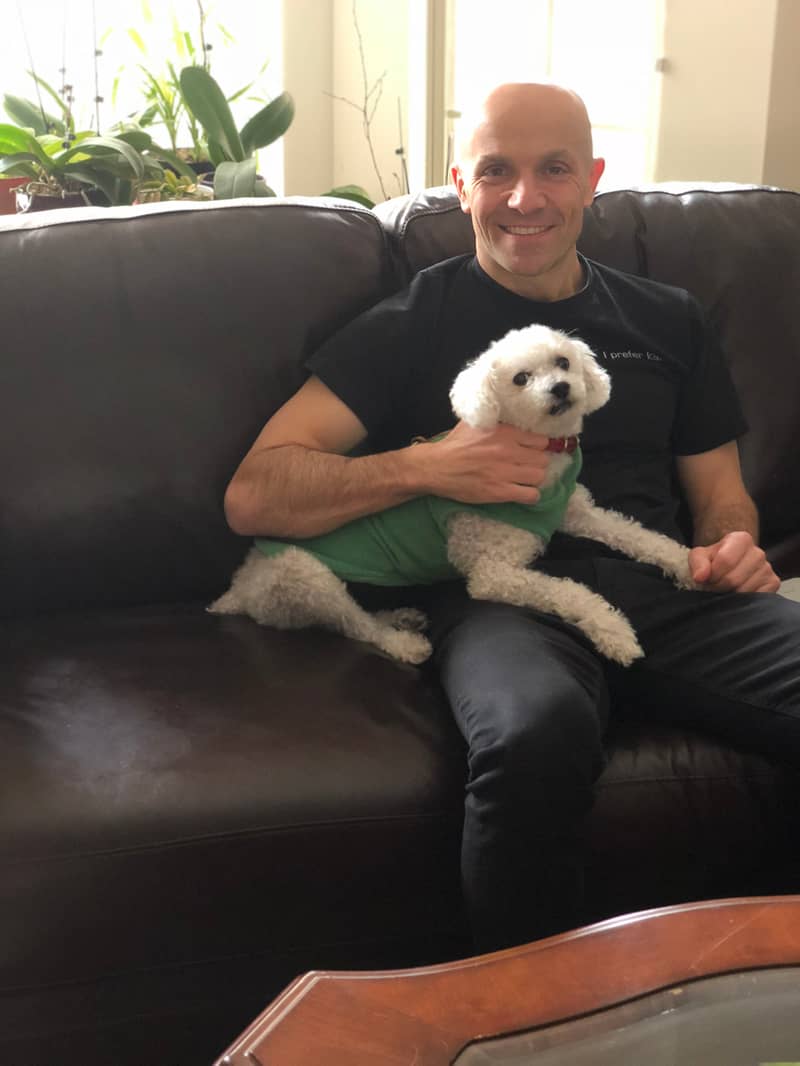 I knew this to be true when Rudy began having trouble walking on his hind legs. Initially, I thought he'd slept on them wrong and was simply going through what I do every time I sit cross-legged on the couch while reading a book. But, he whined and cried as he tried to pull himself around on just his front legs and I knew that something wasn't right. We rushed him to the vet, and there, while we waited in the lobby, Anthony held him close to his face, stroking the top of his head. I'd never seen him so tender with any living thing in my entire life. Fortunately, after a battery of tests, Rudy was sent home with a clean bill of health, and sure enough, he started running around the house like we'd dreamt up the whole episode. It would be years later before Rudy's legs would begin chronically failing him. We discovered he had arthritis, really bad arthritis. And thus began a regiment of pills, CBD chews, pain-killers, and foot massages.
Every once in awhile, I still call Rudy "my dog," but Anthony is quick to correct me: "our dog, babe. OUR dog." And now, sometimes, I think I do it on purpose because with the correction comes this burst of joy in my stomach, knowing that Roodles now enjoys the breadth and combined power of two hearts, not just one.
Rudy, the Californian.
My Daisy girl died unexpectedly. Though she had heart disease for about two years, she was on medication that had, at least in my view, given her a new lease on life. In retrospect, I should have known that even new leases are impermanent. About a year before she died, my mother and I decided that it would be in Daisy's best interests to stay in my mother's care and her home--a spacious townhouse in the suburbs with a lawn and plenty of sunlight (as opposed to my tiny condo in the city). Daisy passed away in my mother's arms a few hours before I could get there. It remains one of the biggest regrets of my life. As a result, when Anthony and I considered moving to California, there was zero chance I wouldn't take Rudy with me.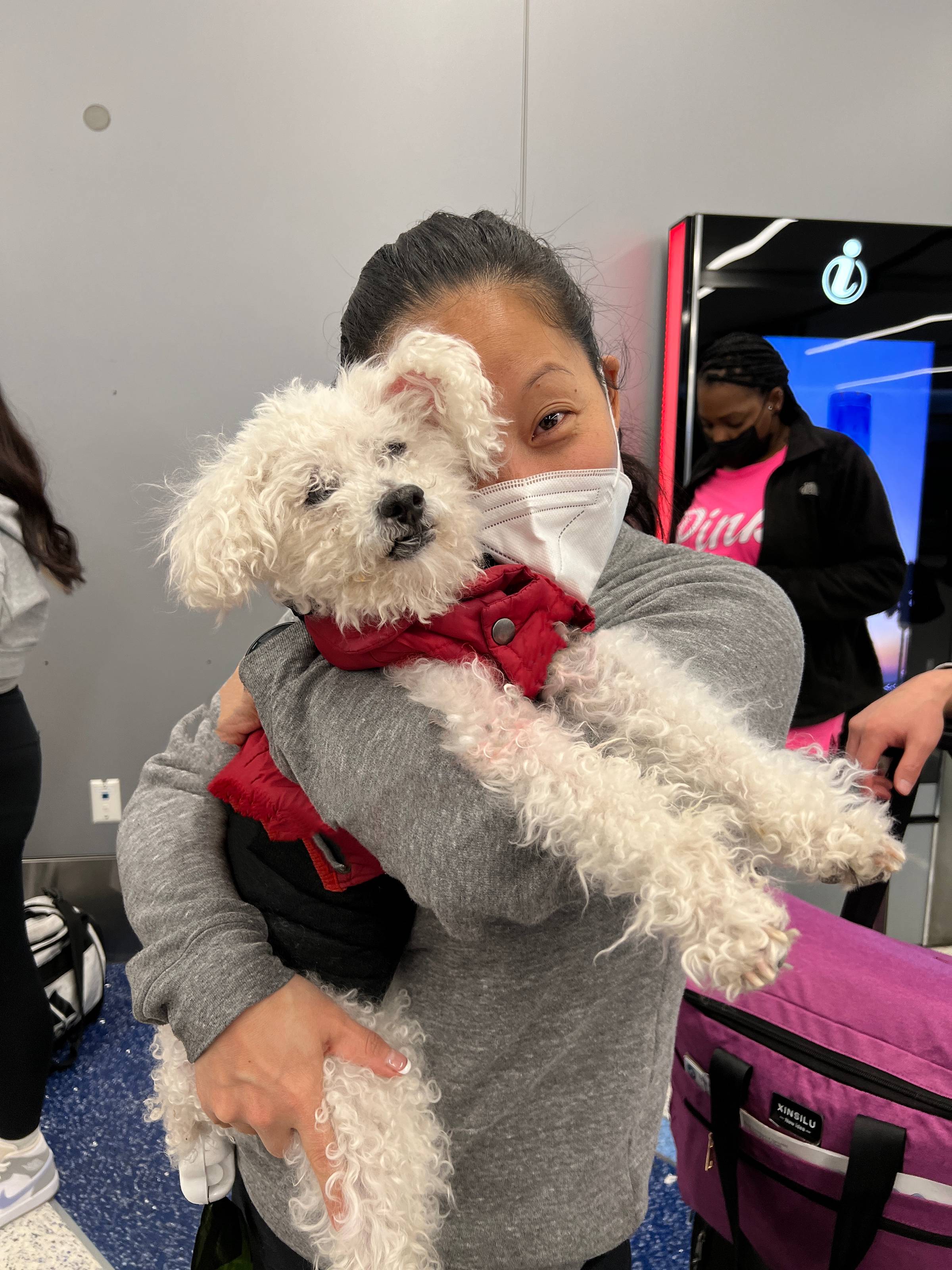 I also knew a home--one with a real lawn and a backyard--and the warmer weather that California promised would be better for Rudy's arthritis. By now, Rudy is almost completely deaf. His vision is clouded by cataracts. And his arthritis is so painful, he has trouble bending over to eat his food. So, while everyone around me guessed I was stressed out about packing all my stuff and moving across the country, in all honesty, I was obsessed with finding the most comfortable way of relocating Rudy. I spent hours and hours on the internet trying to find the most pet friendly airline (they're all not great options). I purchased about 17 different "airline approved dog carriers," most of which were too small for my long-legged poodle mix. In the end, I figured the worse that could happen would be that we'd have to drive all the way to Los Angeles if we were turned away at the airport. Luckily, we got past security and the gate agent with no problems and the flight was quite uneventful. The most exciting portion of our 4.8 hour ride from ORD to LAX was the 6 minutes during which Rudy and I shared a dinner roll, before he promptly went back to sleep.
​
The elation, the out-and-out relief I felt when we finally landed in Los Angeles was indescribable. The following day, I took Rudy out on a walk right around our hotel (we lived out of hotels for about a week before our house was ready for move-in). He sniffed all the things, and it was one of the most surreal moments of my life: Rudy had traveled across the country with me, all the way to California.
Rudy, the Refugee.
As I wrote about here, when I think about all the Rudiosyncracies that we've built our life around, I can't help but consider why he developed them. Why he feels the need to say, "HEY THIS IS MINE" on everything in our house; why he hates it when strangers come up from behind him; why he still goes after any trash can within his reach when he thinks no one is looking; why he hates staying out in the sun or the feel of overly warm water; why he turns his nose at gourmet food prepared especially for him by a New York Times bestselling cookbook author, but goes bananas for a grubby piece of carrot that fell on the floor the day before. It makes me angry and profoundly sad knowing that somehow, my Rudy had to spend a good chunk of his life totally and utterly alone in a world that is unimaginably hostile to animals without a guardian.
And that's what I think of myself as--a guardian. I call myself "Rudy's Mom" and Anthony "Rudy's Dad," but the truth is, Rudy is a refugee. We have created a world that overbreeds dogs for profit while doing not nearly enough to regulate their care. The unconscionable imbalance between our unwillingness to share this planet peaceably with dogs (and any other animal) and the number of dogs we create has, in my mind, generated a responsibility to provide a haven for these animals, the ones we have used and abused for our exclusive purpose.
It is thus truly my honor to be able to tell him, everyday,
You will never have to eat out of a trash can ever again.
You will never have to fight for your food ever again.
You will never have to sleep outside ever again.
You will never have to cross a street without someone to guide you ever again.
You will never have to wake up alone ever again.
And, most importantly,
I will be right here with you when it's time for you to join Daisy.
In short, instead of viewing Rudy as "man's best friend," I want to spend the rest of his life being his.
---
Here are some of the comments to my photo of Anthony and Rudy that I found especially heartwarming:
I remember when we adopted our dog. She only weighed around two pounds and her ribs were poking out. She barely had any hair and she was so nervous. It's been about three years now and I fall more and more in love with her every day. She's at a healthy weight now and has a full coat of wire hair, and she's so happy. It was my brother's birthday party today and we had people over, and she was running around and letting everyone pet her. I don't know what I'd do without her. -Nat
I adopted my Rosco and added him to my little pack about four months ago. He came to my home as a foster dog at first. He was heartworm positive, emaciated, covered in flea bite scars, and had an intestinal parasite. He had BAD resource guarding and peed in the house and didn't know how to play with my other dog. How would he? He spent his life on a chain. However, he looked into my eyes and those eyes said "please keep me." I did. He's rolling around at my feet right now with the biggest smile, just loving life and getting better every day. He's heartworm free, parasite free, and at a healthy weight. He has his challenges from the life he lived - he's bitten me twice over resource guarding, but with consistent training and love and understanding everything is getting better. I'm committed to seeing him through. -RiverTube
I adopted a scrawny chihuahua-mix from a local shelter in 2014. My roommate saw him on a news story featuring dogs available at the shelter. She was insistent that I go check on adopting him as a companion for the Chihuahua I had (I had moved into this home shortly after the death of my elderly cat -- in the previous home, she had two other dogs to hang out with who were good friends as well as my cat. The new roommate had a Yorkie who could not be left alone with her). I adopted him, my Chihuahua liked him and wanted him nearby most of the time (except when it was time for treats). My Chihuahua died in 2016, and it was me and the chihuahua-mix. He died suddenly in my arms one night in 2021. He'd given me six years of joy, love, laughter, and wonderful memories. I hope he knew how much he was loved. He rescued me more than once because when I was at my low points, I would see the love in his eyes and know there was at least one reason to keep going. -Paula Richard
Adopting my first cat is why I became a vegetarian. My parents made me practice my recorder outside because well, hot cross buns for the 400th time wasn't there favorite hit. While practicing one day a severely matter orange and white Persian cat walked up to me. That day was and will always be the most special day of my life. We became best friends. She is the reason I became a musician. Once I started the violin she would sleep in my case as I practiced encouraging me to go on for hours. If I was fighting with anyone she would seemingly be rude to them just to cuddle up with me right after... Pumpkin got me through the hardest times in my life. The last year of her life was extremely difficult for me, after a long fight with feline blood cancer it was her time to pass. I miss her everyday and when I tell her story and how we chose each other I can't help but tear up. It is my proof I know what true love is. Adopting her will always be the best thing I have ever done, she saved me and without her I wouldn't be doing what I love today. It is amazing what an animal can make you do :) -Marissa Faltings
---
Here are a few other videos I watched this week that made me smile:
Ask Joanne.
What kind of knives do u use in cooking/chopping. They are in shape of cleaver. Your style of cooking and sharing stories is exactly how I do psychotherapy for past 30 years. Cooking is a hugely important healing modality that is an excellent assistant along with story telling to process trauma pain. -V
V., thank you so much for the kind words. I'm so glad you agree that cooking can be profoundly therapeutic, even though there are knives involved! In answer to your question, I'm not overly fussy with my knives--at least when it comes to purchasing them. I find that the best bet is to buy a few decent, reliable, reasonably priced knifes and then take really good care of them. Sharpen them regularly, don't put them in the dishwasher, and make sure you wash them soon after using them. Here is a list of my favorite knives:
Thanks for asking this question and giving me an excuse to jot this down--I get this question a lot and have been meaning to share the answer for a while!
Fiber Fueled Cookbook Giveaway Winner
In case you missed it, The Fiber Fueled Cookbook hit NUMBER 2 on the New York Times Bestseller List!! And, the winner to the GIVEAWAY has been selected. If you registered for the giveaway, make sure to check all your emails to see if you are the lucky winner!
Parting Thoughts.
The other day, we were driving back from the nearest Korean grocery store. We exited the parking lot and merged onto the street, when a small white car sped around us, cut us off, all while blaring its angry little horn. A few seconds later, the driver did the same thing to another car. The whole encounter took all of 7 seconds, but it left a bad taste in my mouth. This idiot was disrupting a road of otherwise peaceful, law abiding drivers, who were enjoying a sunny Friday afternoon.
It occurred to me that this driver is a lot like all the little trolls in our lives who threaten to leave more than a bad taste in our mouths. They trick us into believing that the whole world is made up of bad drivers, people who don't care about the safety of those on the road with them. Over the past 3 years, we've all had our fair share of anecdotes or even direct encounters with those who can't be bothered to undertake even the smallest measures to help mitigate some of the risks we face during a global pandemic. Even beyond basic safety, though, it's easy to believe that the world is drowning in cruelty when so much of the news is dominated by those who do harm. It's unfortunate, but the "trolls" of the world often get the most attention, because they are all too eager to use their horn. But I like to believe that life is much more like that road we were driving on, made up of thoughtful but regular Joes, drivers who are occupied with getting to their destination, while keeping an eye on the rearview mirror to make sure they're not getting in the way of anyone else.
Whether on the road or in life, it's important to lower the window and smile or wave at the person next to you, if only to remind them that we exist--we the people who believe in compassion, in doing the right thing, in helping our neighbor, in turning the other cheek, in standing up for the weak.
We exist.
---
​